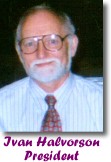 The ASA is a totally volunteer organization. Thus, its leadership is invaluable. The President, Vice President, Secretary, Treasurer, Education Director and Programs Director are elected annually by written ballot of the entire membership. The ASA year begins in September and ends in August.
The ASA Board of Directors is comprised of the elected officers and appointed directors.
Appointed directors include Membership, Hospitality, Member at Large, Newsletter, Publicity and others as the President and Board find important to the success of the Arizona Society of Astrologers.
This years (2000-2001) Elected Officers are: